Last week was Devin's Birthday, though we didn't have his party till Saturday… it was all good, as I'm unsure if he really knew the difference or even cared. It was a FUN day at any rate… we had the party at the Etowah Community Center and the whole (Tennessee) family was there.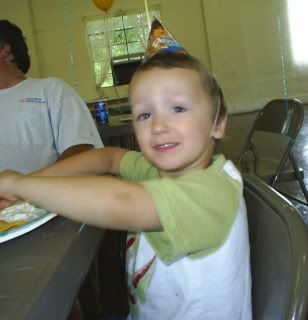 We decorated the whole place with lots of ballons, which devin helped to blow up. Perrin tried to help, but he lost a few… But not too many thanks to Lakota who chased them under the tables.
Amanda and her new boy toy Jhoel had fun, and of course Perrin.
Shannon and Devin's Father showed up. And can't really have Tim without Jason…
Lakota and I put on airs *pinky up*
Shannon & Amanda's daddy played basketball with the kids. Amanda even played for a bit.
Lakota chased a ballon under the tables
I went in drag, which was fun because I got to give Shannon a lap dance. Devin also showed signs of some curiosity *smirk* Though Lakota would have NONE of that…either would Jhoel.
I got pix of…
Shannon & I
Devin & I
and Lakota & I
We ate Pizza, chips, and cake… Devin loved it all! Though Perrin didn't eat much, he mostly watched.
Devin got lots of gifts. Lakota and Perrin both tried to help open them. My mom, Cyndi & I went in together and got him a bike.
All in all, Devin give it a big thumbs up!