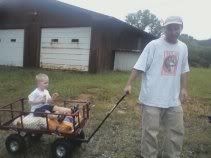 I've been very busy these last few weeks getting my mothers house prepped for her to move in, getting her moved in, and then setting up her stuff. I've also been very busy this week getting my sister-in-law moved in as well. Most of it is all set up now however and I am starting to see the fruits of my labor in the form of a wonderful gift from dear old mom… a red wagon.
Of course it was something that I wanted, and it was a toss up between this or a dolly. I often have a need to haul things that are too heavy for my little self so I wanted something. While I'd likely be able to do some extra things with the dolly, I figured having something to pull around the grand kids in would far outweight not being able to move the dryer in my shed or wanting to dolly in the ten boxes of water once a month.
I got the thing yesterday, but did not get it home till today. When my mother dropped it off it was on the way back from getting a 50 pound bag of chicken feed, and as I had perrin he (and the feed) were the first to ride in the thing. He was thrilled with it, and enjoyed the return trip just as much. Later Lakota and Shannon stopped by, and I got to pull her around the yard. She even got a chance to pull me around, which was fun for me and amazing to her. She had no idea should could pull a "grown up" with her 8 year old self.
Today was a good day!